För 3 veckor sedan höll
UAFC
(Undisputed Arena Fighting Championship) sin första gala vid namn Art of War.
Main event för kvällen var en tre ronders tungviktstitelfight mellan Pedro Rizzo och Justin Eilers.
Pedro Rizzo var tillbaka efter en timeout på 13 månader som han tog efter att ha förlorat ordentligt i dom två fighter han hade efter hans förra uppehåll.
Justin Eilers har efter tre raka förluster i
UFC
startat om sin karriär med bättre mer konservativa strategier och med det tagit sju raka (T)KO vinster i mindre galor.
Pedro Rizzo vs. Justin Eilers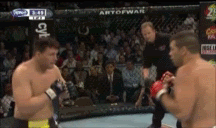 var en riktigt bra fight faktiskt där båda såg bra ut stående. Rizzo hade en nedslagning ganska tidigt i första ronden och försöker följa efter för att avsluta men Eilers lyckas försvara sig och resten av ronden ligger Rizzo ovanpå Eilers och delar ut lite ineffektiv Ground and Pound.
I
andra ronden håller dom sig stående hela tiden och båda träffar bra. Eilers och Rizzo ser båda rätt mörbultade ut. Rizzo landar flera hårda bensparkar och dom ger verkligen utdelning. I slutet av andra ronden så levererar Rizzo en hög spark istället som träffar riktigt bra och han följer upp med slag, Eilers vänder sig om och försöker komma undan men Rizzo följer efter men hinner inte avsluta innan ronden är slut.
I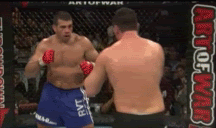 tredje ronden trodde jag nog att Eilers skulle vara så gott som slut, men icke. Han är lika mycket med i matchen som förut och visar verkligen hur tuff han är. Tempot känns lite lägre nu än tidigare och Rizzo känns lite försiktigare. Eilers från in ett par bra träffar men Rizzo likaså. Mycket jämn sista rond men jag gav den till Rizzo även om jag var mest imponerad av hur Eilers inte gav sig en tum. Trots nedslagningen i första ronden och att han räddades av gonggongen i andra så var han aldrig ute ur matchen.
En
mycket bra fight men kvällens höjdpunkt fick vi se lite tidigare under kvällen.
Alex Andrade vs. Klas Akesson
var otroligt underhållande och hade ett helt fantastiskt slut. Första ronden var jämn men jag gav den ändå till Andrade, han lyckades kontrollera fighten mer. I andra ronden får Andrade in en uppercut som sänker Åkesson och domaren går in för att bryta, men Åkesson fortsätter försvara sig och Andrade fortsätter slå. Åkesson lyckas ta sig upp stående igen bara för att bli nedslagen igen allt medans domaren försöker bryta. Ja, ni ser själva. Jag hade hört om det här innan men det var ju 10 gånger bättre än jag trodde. Det är svenskt stål det! Nedslagen 2 gånger på raken och domaren emellan, det är ingen anledning att ge upp! Han var grymt förbannad och skrev fan eller fuck ett flertal gånger. Sen kramar han om och gratulerar Andrade och Andrade lyfter upp Åkesson på sina axlar och bär runt honom lite som för att hylla hans karaktär och ger honom tom en puss. Helt underbart att se sån gemenskap i ringen.
Anthony Njokuani vs. Kenneth Rosfort
var en annan bra fight där vi fick se obesegrade kickboxaren Njokuani vinna med en mycket fin knockout efter drygt 2 minuter.
Vi fick även se
Tom East vs. Brian Russel
där East vann med ett riktigt fint keylock armlås på under 2 minuter. Det är dock felaktigt rapporterat som en TKO. Det är enligt Sherdogs fightfinder Tom Easts första profesionella MMA fight och han hade riktigt bra brottning och markkontroll, fin ground and pound från sidemount och ett bra submission avslut. Nu var det enligt fightfindern Russels första fight också så det behöver väll inte säga så mycket men jag tyckte East såg bra ut.
Fullständingt resultat från galan taget ifrån
Sherdogs fightfinder
: